RELEVANCE – UPSC GS PRELIMS & GS MAINS -III
EXPECTED QUESTIONS 
QUES 1 .  Consider the following statements about  GOBAR-Dhan  Yojana-
1 .The scheme was launched at Karnal  on 30-April-2018.
2 . The scheme was announced in Budget 2017-18.
Which among the above statements is/are correct?
a . only 1
b . only 2
c . both 1 & 2 
d . none of the above
ANSWER – a
QUES 2 . GOBAR-Dhan  Yojana is an important component of –
a . Rashtriya Gokul Mission
b . Swachh Bharat Mission (Gramin) 
c . Pashudhan Sanjivani
d . National Mission for Green India
ANSWER – b
About  GOBAR-Dhan  Yojana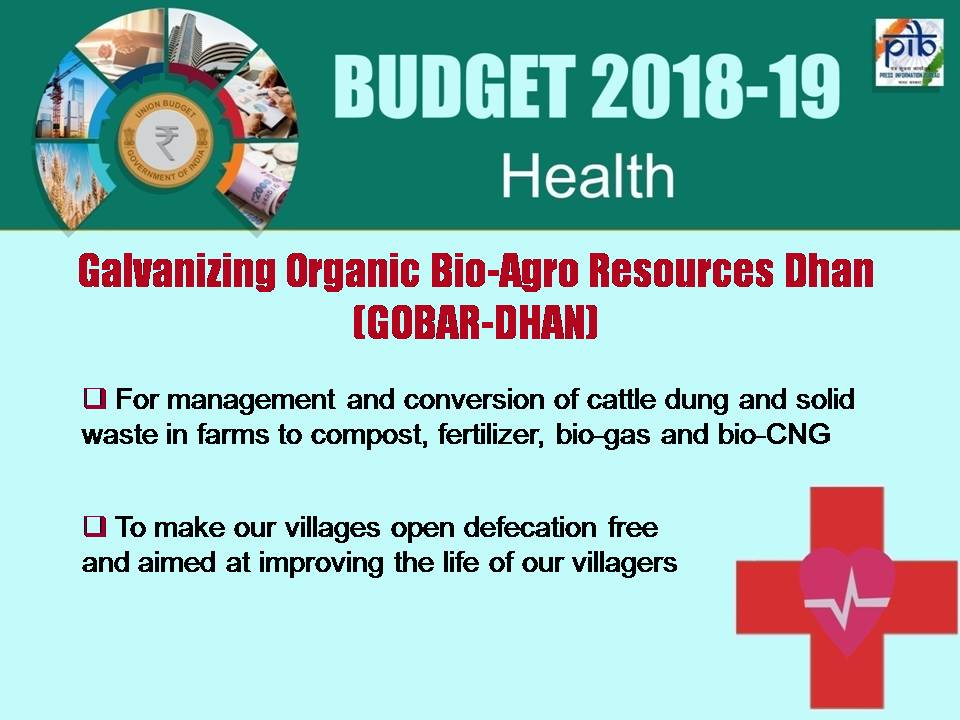 When it was launched?
The GOBAR (Galvanizing Organic Bio-Agro Resources)  DHAN scheme was launched at Karnal  on 30-April-2018.The scheme was announced in Budget 2018-19.
Aim of the scheme
The scheme aims to positively impact village cleanliness and generate wealth and energy from cattle and organic waste.
The scheme also aims at creating new rural livelihood opportunities and enhancing income for farmers and other rural people.
Background
The Swachh Bharat Mission (Gramin) comprises two main components for creating clean villages – creating open defecation free (ODF) villages and managing solid and liquid waste in villages. With over 3.5 lakh villages, 374 districts and 16 States/UTsof the country being declared ODF, the stage is set for ODF-plus activities, including measures to enhance solid and liquid waste management.
The GOBAR-DHAN scheme, with its focus on keeping villages clean, increasing the income of rural households, and generation of energy from cattle waste, is an important element of this ODF-plus strategy.
Benefits of the Scheme
The Gobar Dhan scheme or Gobar Dhan Yojana will provide many benefits to the rural people-
1 . It will be easier to keep the village clean and sanitized, livestock health will improve and farm yields will increase.
2 . Biogas generation will increase self-reliance in energy utilized for cooking and lighting.
3 . Farmers and cattle herders will be helped in augmenting their income.
4 . There will be novel opportunities for newer jobs linked to waste collection, transportation, biogas sales etc.
5 . In addition to this, an online trading platform will be created for better implementation of Gobar Dhan Yojana that will connect farmers to buyers so that they can get the right price for dung and agricultural waste.
Significance of the Scheme
The scheme will be hugely beneficial for the country as India is home to highest cattle population in world (around 300 million in number) which produces around 3 million tonnes of dung.
Gobar Dhan Scheme will encourage the farmers to consider dung and other waste not just as a waste but as a source of income.