The National Institution for Transforming India, also called NITI Aayog, was formed via a resolution of the Union Cabinet on January 1, 2015. NITI Aayog is the premier policy 'Think Tank' of the Government of India, providing both directional and policy inputs. While designing strategic and long term policies and programmes for the Government of India, NITI Aayog also provides relevant technical advice to the Centre and States.
WHY NITI AAYOG WAS CONSTITUTED?
The Government of India, in keeping with its reform agenda, constituted the NITI Aayog to replace the Planning Commission instituted in 1950. This was done in order to better serve the needs and aspirations of the people of India. An important evolutionary change from the past, NITI Aayog acts as the quintessential platform of the Government of India to bring States to act together in national interest, and thereby fosters Cooperative Federalism.
TWO HUBS OF NITI AAYOG
At the core of NITI Aayog's creation are two hubs – Team India Hub and the Knowledge and Innovation Hub. The Team India Hub leads the engagement of states with the Central government, while the Knowledge and Innovation Hub builds NITI's think-tank capabilities. These hubs reflect the two key tasks of the Aayog.
NITI Aayog is also developing itself as a State of the Art Resource Centre, with the necessary resources, knowledge and skills, that will enable it to act with speed, promote research and innovation, provide strategic policy vision for the government, and deal with contingent issues.
AIM OF NITI AAYOG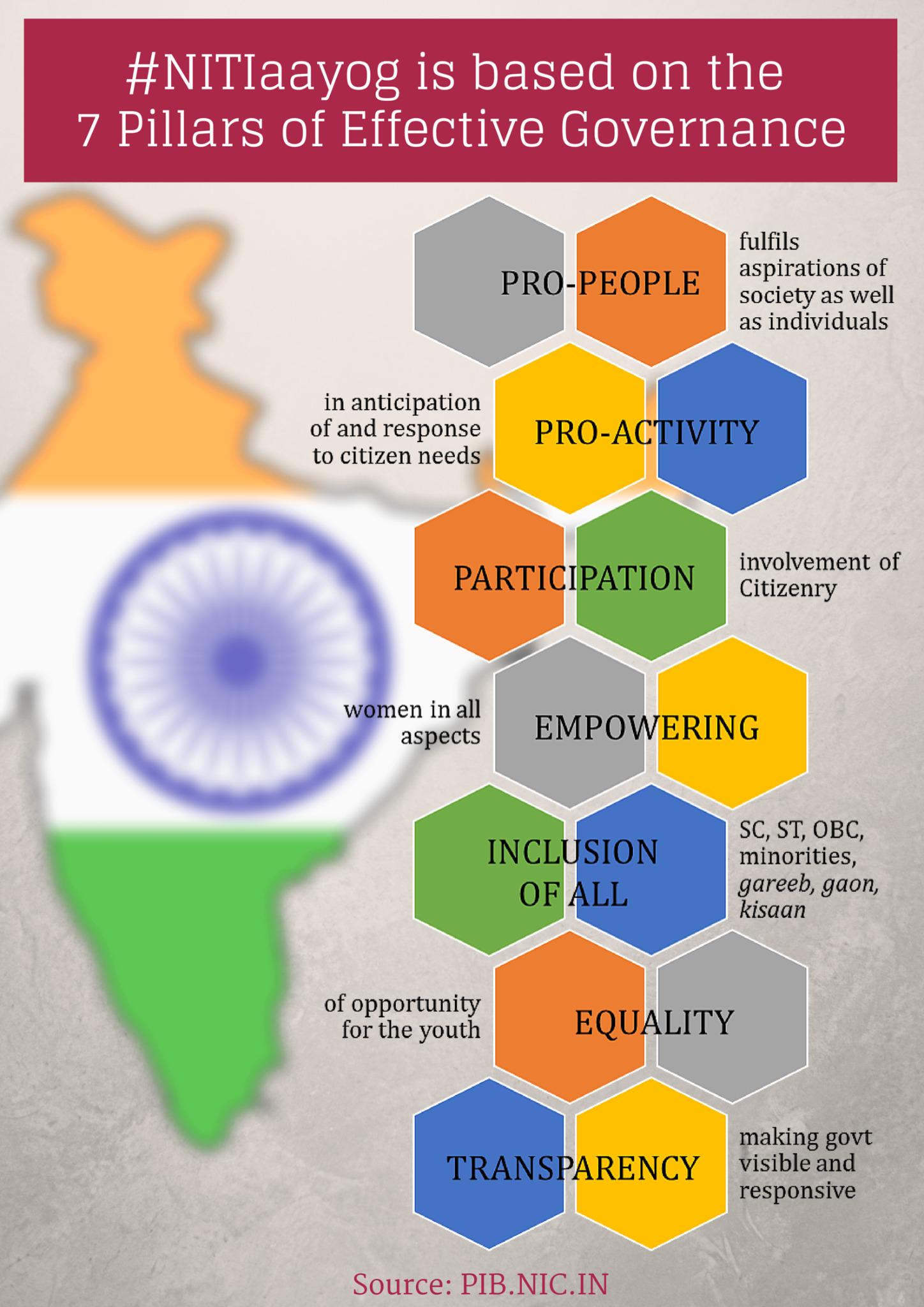 COMPOSITION OF NITI AAYOG
The NITI Aayog comprises the following: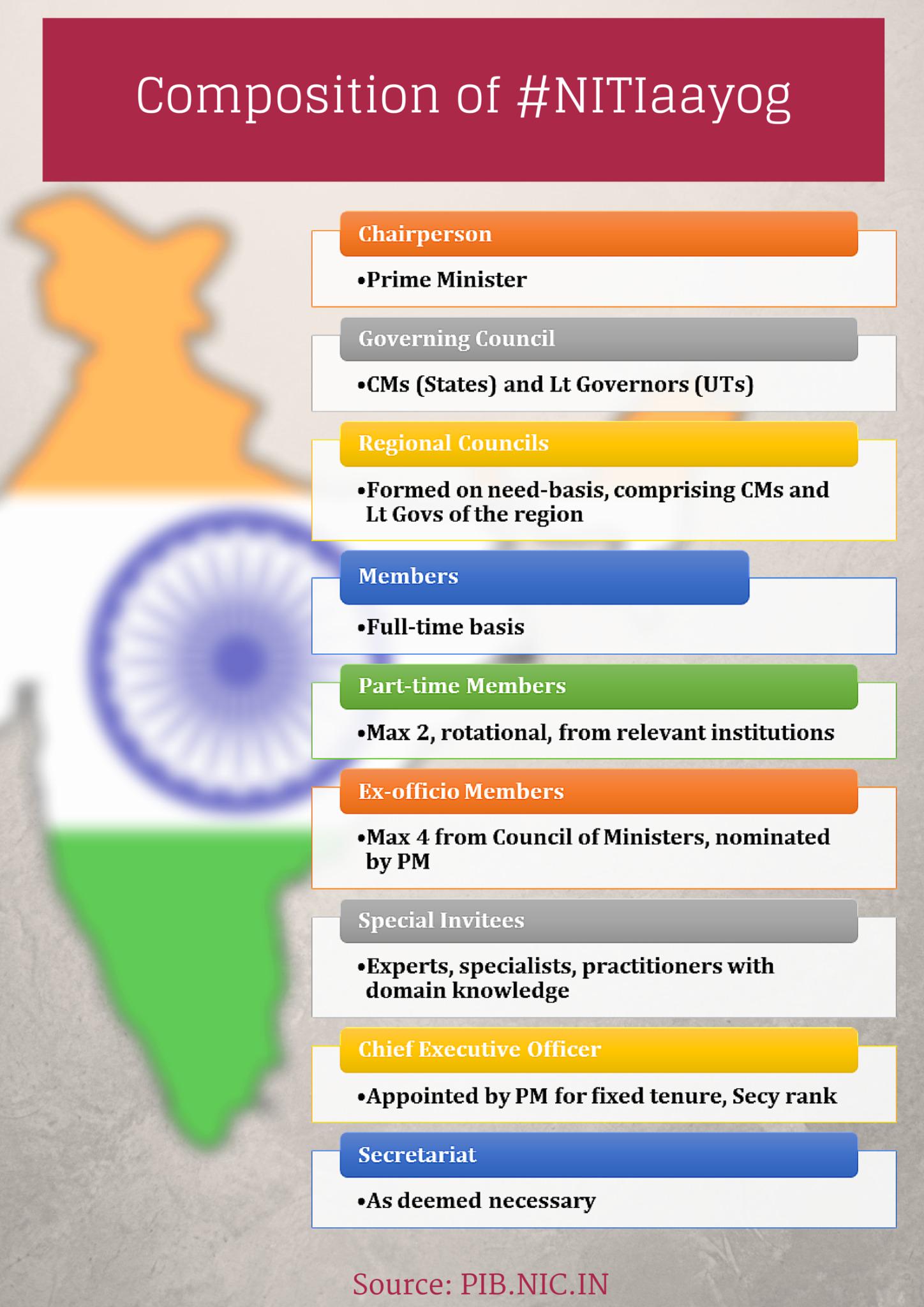 OBJECTIVES OF NITI AAYOG
The NITI Aayog works towards the following objectives: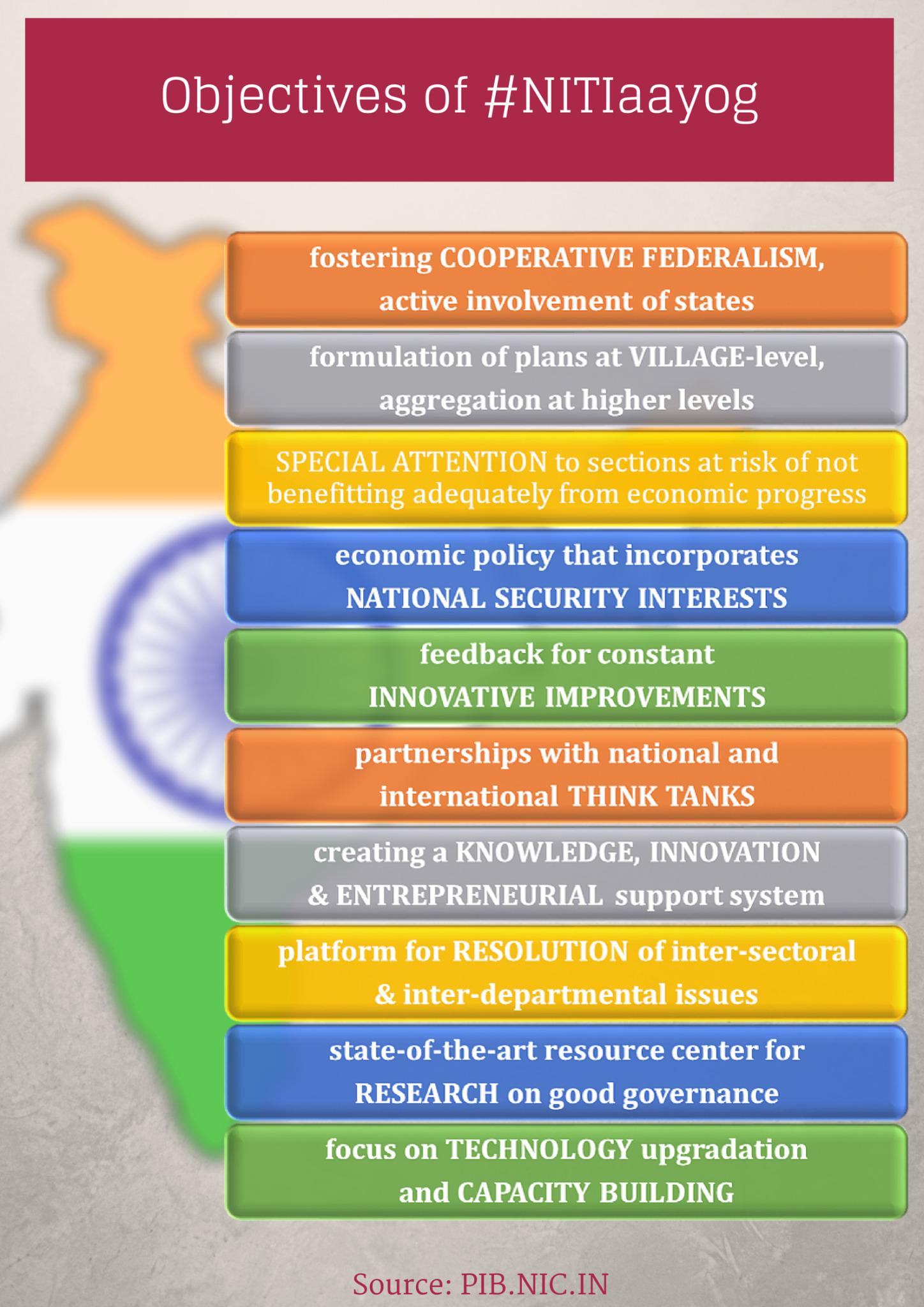 INITIATIVES OF NITI AAYOG
Its initiatives include "15 year road map", "7-year vision, strategy and action plan", AMRUT, Digital India, Atal Innovation Mission, Medical Education Reform, agriculture reforms (Model Land Leasing Law, Reforms of the Agricultural Produce Marketing Committee Act, Agricultural Marketing and Farmer Friendly Reforms Index for ranking states), Indices Measuring States' Performance in Health, Education and Water Management, Sub-Group of Chief Ministers on Rationalization of Centrally Sponsored Schemes, Sub-Group of Chief Ministers on Swachh Bharat Abhiyan, Sub-Group of Chief Ministers on Skill Development and Transforming India Lecture Series.
'IndiaChain'-NITI Aayog has taken initiative on Blockchain usages in E-governance and has conceptualized the tech stack as 'IndiaChain'. IndiaChain is the name given to Niti Aayog's ambitious project to develop a nation-wide blockchain network.